The Best Practice Tariff (BPT) for COPD will be in place for the financial years 2017/18 and 2018/19. The BPT applies to all non-elective admissions (defined by HRG DZ65), i.e. where the primary diagnosis is Acute Exacerbation of COPD (AECOPD), for trusts in England only.
Best practice will be considered achieved when (at a trust level):
60% of patients with a primary diagnosis of COPD, admitted for an exacerbation of COPD, receive specialist input to their care within 24 hours of admission, and
where they receive a discharge bundle before discharge.
Attainment against the COPD BPT will be measured by the National COPD Audit Programme's continuous secondary care audit (which was launched on 1 February 2017). More details are available on the National COPD audit programme website. 
Dr Justin Pepperell, Consultant Respiratory Physician, Musgrove Park Hospital, Taunton and Somerset NHS Foundation Trust, outlines how they have approached introduction of the BPT.
The BPT provides for a conditional top up payment where the above criteria are met, but only where this is demonstrated through participation in the COPD secondary care audit. Submitting data for this continuous audit will place demands on hospital resources. To support their case for new staff to work on the audit, Musgrove Park Hospital took the approach of demonstrating the potential financial benefit of meeting the BPT. An example 'ready reckoner' is set out below, and a more detailed analysis follows at Annex 1.
Ready Reckoner
Table 1 shows the non-best practice tariff (or base rate) and the best practice tariff (base rate plus top up payment) for 2017/18 taken from the national COPD audit BPT document referred to above.
Table 1: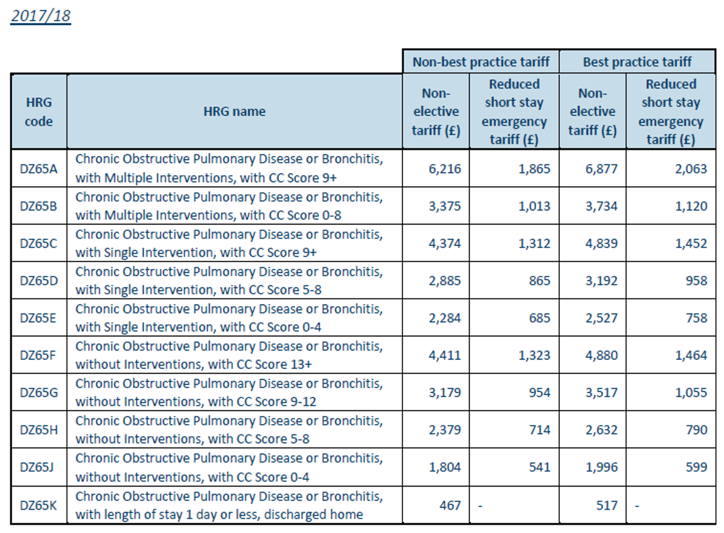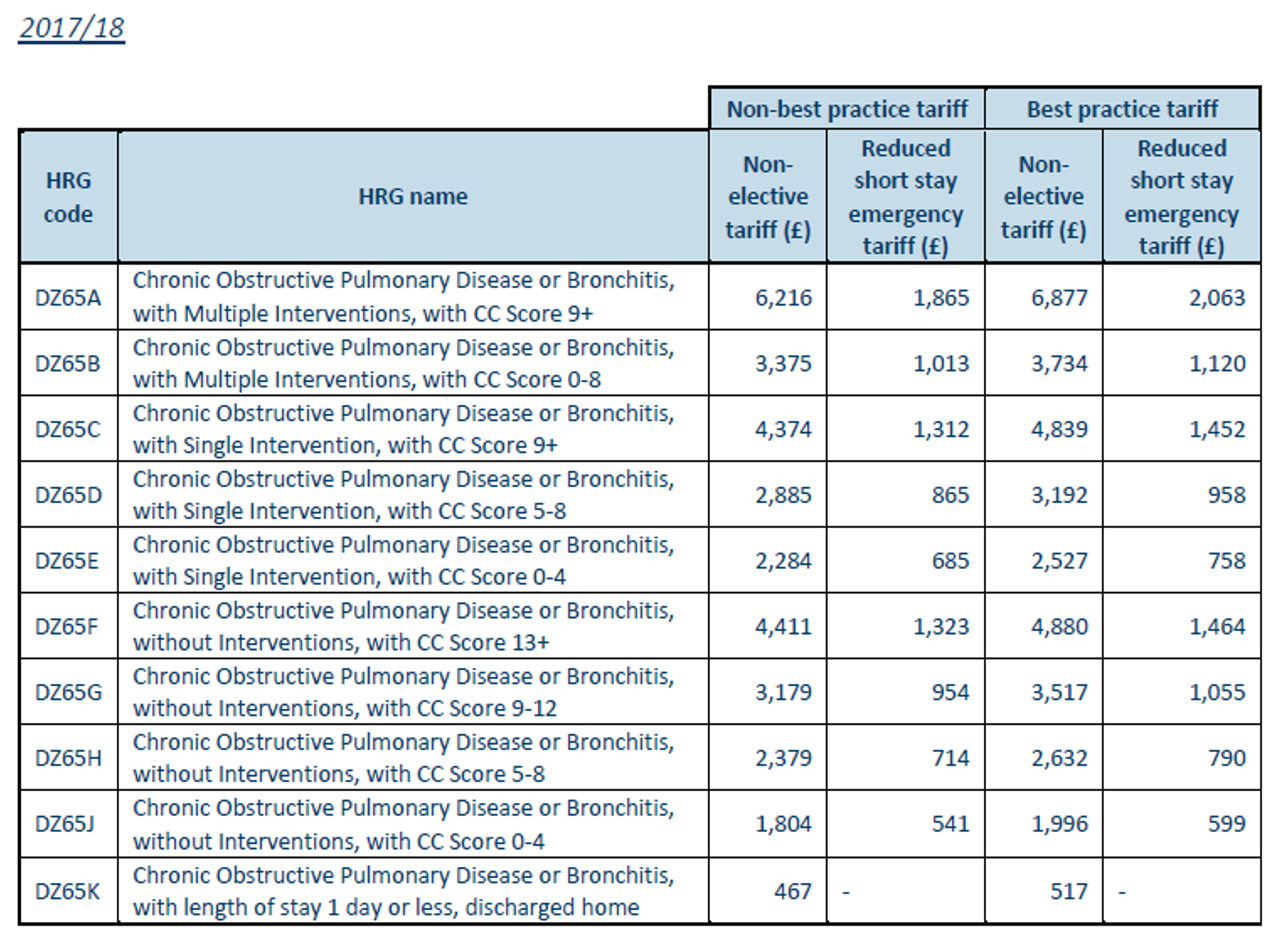 The following is based on a population of 320,000 mainly rural patients, where there were:
1) 1422 COPD admissions as a coded diagnosis in any position
2) 554 COPD admissions with primary diagnosis j440 439 441 449 mapped to HRG code DZ65
The BPT provides for an uplift of 10.6% to be payable where the BPT is met. The average tariff increase for COPD admissions for all of the codes in Table 1 excluding DZ65K day cases is £236. The difference in the BPT and non-BPT tariffs range from £58 to £661. The following calculation assumes an even distribution of patients across the relevant HRG codes.
Meeting the BPT would therefore attract an additional payment from commissioners of around £130,990 (based on 554 eligible patients at an average tariff of £236.44).
This would support new staff to implement the COPD secondary care audit:
1) Band 2 data entry salary £15,251 to £17,978 and/or
2) Band 6 patient review and data entry salary £26,302 to £35,225
Annex 1 (download as a PDF)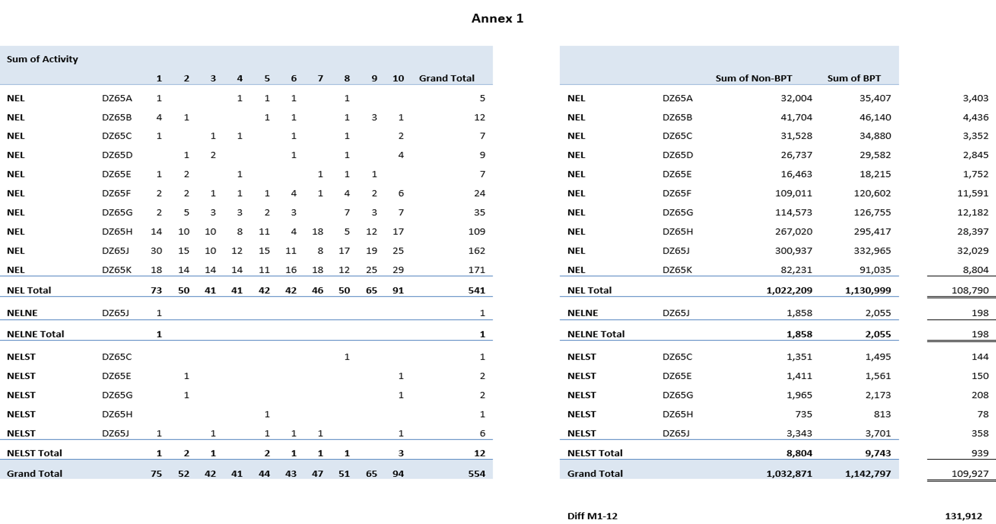 The above analysis confirms £132,000 of additional income from the BPT based on 16-17 full year activity. This is drawn from a full finance report from the trust with accurately coded primary diagnoses for a rural population of 320,000 over 10 months adjusted to 12 months.
Related links
Case study: preparing for the COPD Best Practice Tariff, Manchester Royal Infirmary
Respiratory coding and tariff update 2017/18: https://www.brit-thoracic.org.uk/working-in-respiratory/clinical-data-and-coding-in-respiratory-care/
NHS National Tariff Payment System 2016/17: https://www.gov.uk/government/publications/nhs-national-tariff-payment-system-201617