My journey through integrated respiratory care service development: a blog series
Ire Valero is a consultant chest physician and the clinical lead for the newly developing integrated respiratory service for Leicester, Leicestershire and Rutland STP. Ire and her team have already successfully started the first pilot of respiratory virtual clinics in Leicestershire. As a member of the Integrated Care Network, she will share in this blog series her experiences during her journey through transformation of respiratory care.
You can contact Ire on twitter: @Ire_Valero
Mon 8th April 2019
In this first post, we meet Ire and learn about her role as an integrated respiratory physician.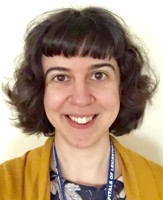 What is your background?
Many people ask me "which part of Spain are you from?" and I struggle with the answer as I have lived in a few places around the South East. I qualified in 2007 and completed my specialty training in Respiratory Medicine in Valencia (Spain) in 2012. In 2013 I moved to the United Kingdom to start a clinical fellowship in sleep medicine and non-invasive ventilation at Glenfield Hospital, Leicester. In 2015 I was offered a fellowship in integrated respiratory care by the East Midlands Deanery, where I had the opportunity to get involved with the local STP in the development of breathlessness and chronic cough pathways. As part of the fellowship I also completed a postgraduate certificate in leadership for the medical professions with Swansea University and started working part time as a locum consultant physician in Sleep Disorders Medicine in Leicester General Hospital. In October 2018 I took up my current post as a substantive Consultant Respiratory Physician in Leicester and I am currently the clinical lead for the integrated respiratory service for Leicester, Leicestershire and Rutland STP. I am also practising as a sleep medicine consultant for the Leicester Sleep Service. In my free time I am an amateur photographer and illustrator, and enjoy cooking (I am a firm advocate against the addition of chorizo to paella), in-line skating and furniture building.
How is the system set up in Leicestershire?
The Leicester, Leicestershire and Rutland system footprint covers a population of 1,061,800 patients across three different CCGs (Leicester City CCG, East Leicestershire and Rutland CCG and West Leicestershire CCG). Our STP (Better Care Together) is a partnership including six NHS organisations (three NHS Trusts and the three CCGs) and other independent, voluntary and community sector providers and local councils. The partnership has been developing proposals for transformation and financial sustainability since 2014. Respiratory care is part of the long term conditions workstream. In August 2015 the STP provided support for implementing a specialist-led, diagnostic, cardio-respiratory breathlessness clinic to achieve early diagnosis and treatment for patients suffering from chronic breathlessness of unclear origin.
What does your job plan entail?
I am employed by University Hospitals of Leicester NHS Trust and hold an honorary contract with Leicestershire Partnership NHS Trust (the provider of community health services). My post is partly funded by the hospital and partly by the STP. My office is based in Glenfield Hospital (tertiary care centre for cardio-respiratory services) and my time in hospital is spent on the acute respiratory ward cover and weekly, offsite general respiratory clinics. The process of integration with the community also entails time allocated for medical leadership and pathway development, MDT, advice and guidance for the integrated respiratory team members and for primary care, teaching and upskilling. Additionally, and as part of a sub-specialty interest in Sleep Medicine I am also undertaking weekly sleep clinics in the Leicester General Hospital, looking after patients with respiratory and non-respiratory sleep disorders.
What are the main challenges you encountered on arrival?
One of my most significant challenges has been the lack of peer support: I am the first consultant chest physician appointed to an integrated respiratory care post in our area, which makes the development of a new service and the coverage of a big population area challenging. The way to get around this is to seek advice from Integrated Respiratory Care Consultants in other parts of the country and to start the transformation through small pilots in order to demonstrate meaningful changes. I am also lucky to work alongside an excellent team, who make things feel easier. Other challenges derived from the current financial landscape (mainly understaffing) and IT barriers are common to other settings in the NHS. In Leicestershire and Rutland a good proportion of the IT barriers are somewhat mitigated by the fact that the secondary and tertiary care reference provider for the region is a single Trust (University Hospitals of Leicester), meaning that the radiology, laboratory results and most of the clinic letters and discharge summaries are easily accessible across all settings. But still, access to community or GP records by hospital professionals or vice versa remains limited. In my case, being employed by a hospital provider and honorary by a community provider gives me access to both systems (I have recently completed my training in SystmOne). I am sure more challenges are on their way, and in this blog I will keep you posted on what these are and our strategies to try and overcome them.
Which are the projects that you are currently leading or involved with?
We have chosen COPD as the respiratory condition to focus on in our initial projects. We have started a pilot of respiratory virtual clinics in a number of GP practices across the three CCGs in Leicestershire. We are also scoping a community respiratory rapid response service and piloting its two components (admission avoidance and early supported discharge), as well as exploring the set-up of an ambulatory diagnostic hub for one of our CCGs and the involvement of psychological services for our COPD patients.