Medical education
Many trainees wish to pass on their knowledge and skills, inspiring and up-skilling the next generation of Respiratory specialists. Most doctors will be involved in some kind of teaching delivery, but medical education covers a much wider breadth of interests and activities than this. Harden et al defined the 12 roles of the clinical teacher, and the Academy of Medical Educators has outlined five domains for the discipline.
Section J of the Respiratory Curriculum is dedicated to teaching and training competencies. It specifies the knowledge, skills and behaviours trainees need to demonstrate prior to CCT, including knowledge of: educational theories and principles; adult learning principles; the differences between formative and summative assessment; and the structure of effective appraisal review. It specifies skills including: ability to critically evaluate educational literature; conducting developmental conversations (e.g. mentoring); and participation in strategies aimed at improving patient education.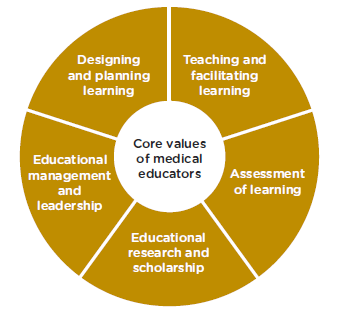 Training in Medical Education
Trainees are strongly recommended to attend formal training in teaching methods. 1-2 day courses are provided by the Royal College of Physicians, the Royal Society of Medicine, and many LETBs (often free or discounted for local trainees).  In addition, a number of excellent e-learning modules are provided free by HEE London LETBs.
For those who wish to take their interest further, a formal qualification may be useful and fulfilling to pursue. Courses leading to a PGCert, Diploma or Masters in Medical or Clinical Education are available on a full or part time basis, and may be face-to-face or distance learning.  Providers include the Royal College of Physicians and a number of Universities (University College London, The Institute of Education, University of Dundee, University of Bedfordshire and Hertfordshire, Kings College London). There are also specific qualifications in simulation and technology-enhanced learning. A list of courses, costs and entry requirements is available on the HEE London site. 
In addition, trainees may wish to have their knowledge and experience recognised through a specialist body, such as the Higher Education Academy or the Academy of Medical Educators.
OOPE in Medical Education
Just as trainees with an interest in research find that time out of training provides opportunities to develop their skills, pursue projects and write academic articles, OOP can be used for similar purposes in medical education. There are now a number of Clinical Teaching Fellow posts available to trainees, which sometimes come with support towards fees for a PGCert or Diploma. Opportunities vary greatly in scope and focus and are available in a number of contexts, from hospital trusts or medical schools, to policy units at the RCP or HEE. As with any other type of OOP it is important to plan ahead and to provide plenty of notice to your TPD. For most training programmes, it is only possible to leave the programme in October or April and 6 months notice must be given.
The Future of Medical Education
The GMC expects all doctors to demonstrate skills in teaching and training, but acknowledges that some have a specialist interest and take on specialist roles. GP trainers are already recognised and approved, and from 2016 onwards this will also be required of those with special educational roles in other areas of the NHS.
The new process aims to protect and enhance the status of training. The GMC have defined 4 trainer roles which will require recognition;
Postgraduate roles requiring recognition

named educational supervisor
named clinical supervisors

Undergraduate roles requiring recognition

lead coordinators of undergraduate training at each local education provider
doctors responsible for overseeing students' educational progress for each medical school
 For trainees hoping to hold educational roles in the future, it is worth reviewing the new requirements and considering how to prove their educational competencies and expertise as they progress towards CCT. 
See the Forum for articles relevant to Respiratory training, and educational initiatives that trainees have highlighted. Why not add your own?